Rolling Your Own Fingerprints on FD-258 Cards
Feb 16,2022 | KyleMatthews
Once you've selected your suppressor's overall length and filled out and submitted ATF's Form 1 (Application to Make and Register a Firearm), you'll need to take your fingerprints with the FBI's FD-258 Fingerprint Cards. This part of the application can only be completed once your application has entered the "PROCESSING" status at the ATF. You'll receive an email with a cover letter containing a Permit/Control Number. If you haven't reached this phase, be sure to read part 2 of this guide below. You need to mail two fingerprint cards with the cover letter you received from the ATF after submitting your Form 1 application to the agency's processing center in West Virginia.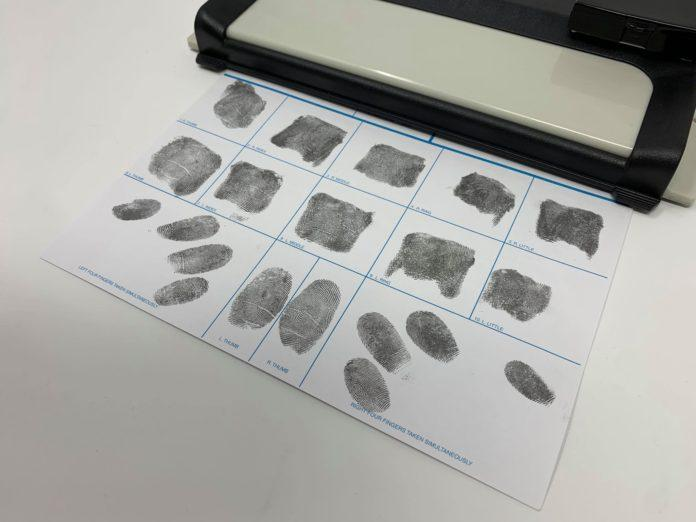 Rolling Fingerprints: What's Needed
FD-258 Fingerprinting Cards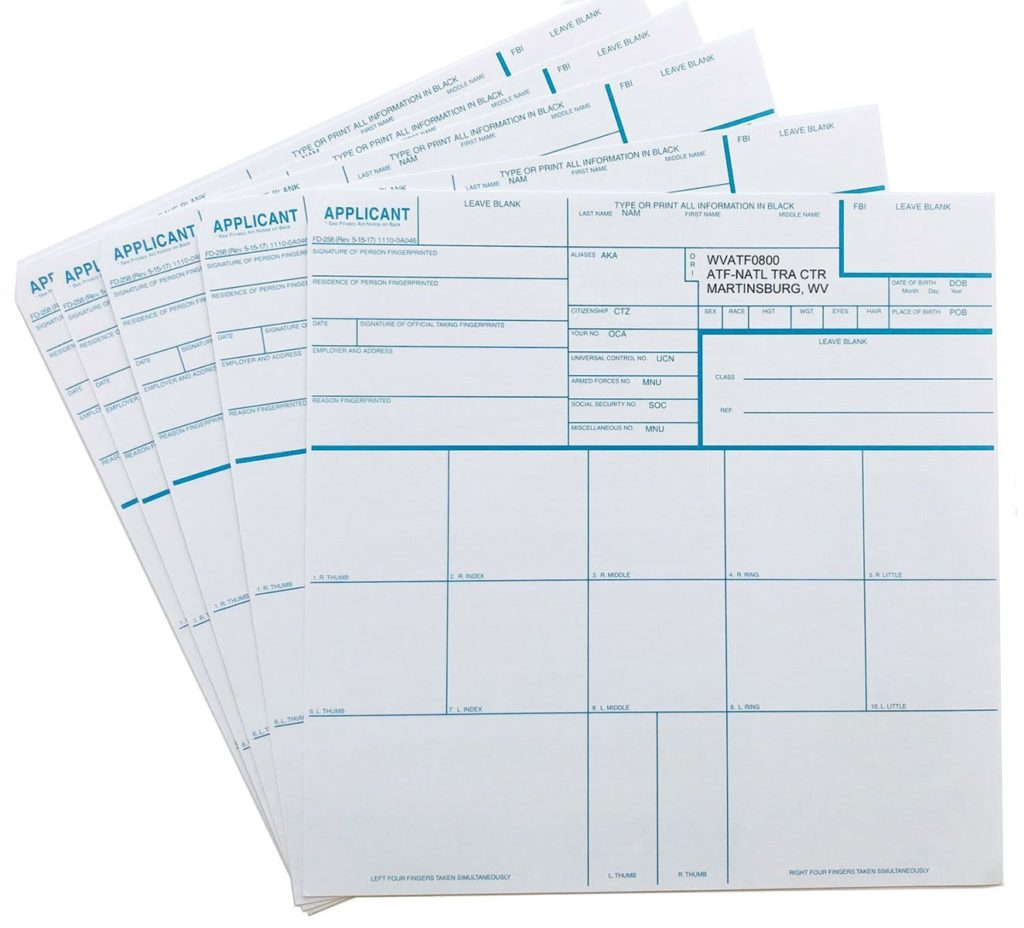 The FD-258 Fingerprinting Cards can be ordered from the Bureau of Alcohol, Tobacco, and Firearms for free! Click here to visit the ATF's Distribution Center Order Form.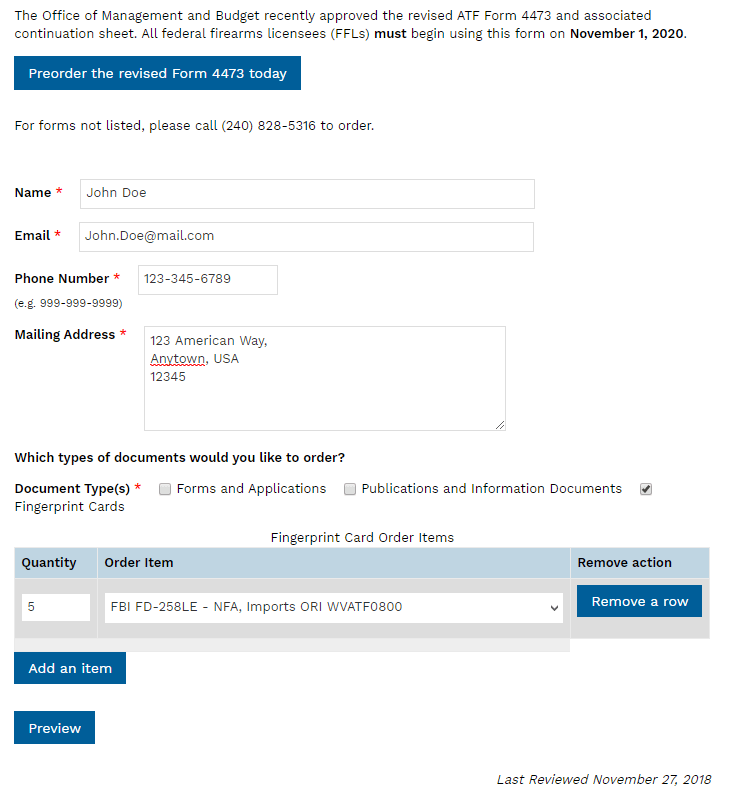 Fill out the order form for the FD-258 cards. Check the box that says "Fingerprint Cards." You need to select the option that lists "FBI FD-258LE – NFA, Imports ORI WVATF0800." This option comes with the ORI mailing address pre-printed on the card for the processing center in West Virginia. You can order as many cards as you want, so order a few extras to be safe.
For Form 1 Trust Applications, you also need to mail fingerprint cards for each trustee listed on your application. Order as many cards as required for each trustee, plus extras for each person to cover any mistakes or misprints.
Inkless Fingerprinting Ink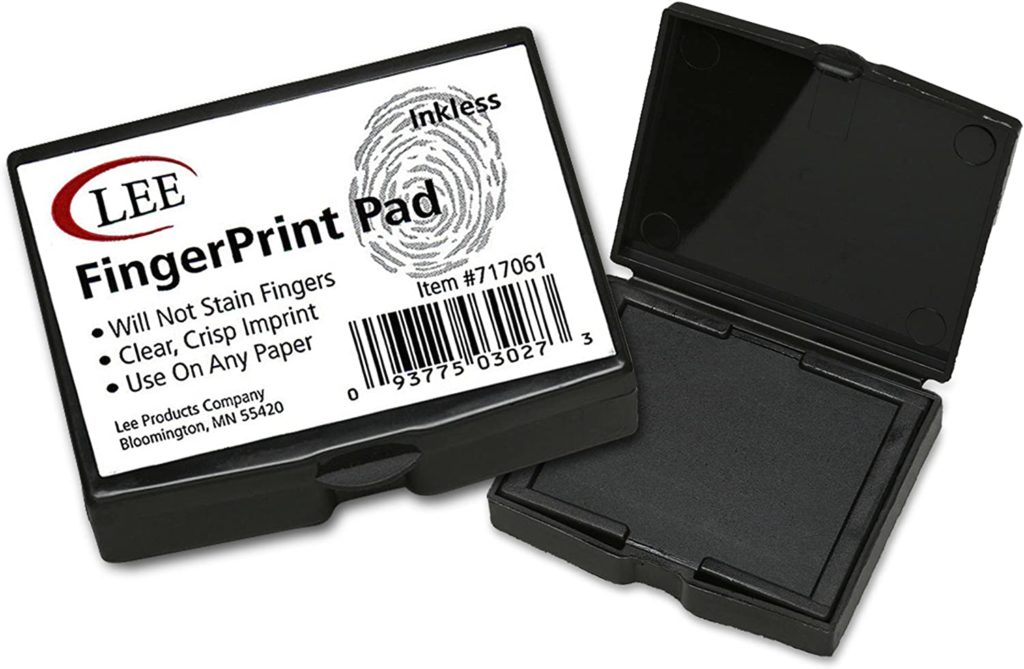 We strongly recommend sticking with "inkless" ink. The Lee Inkless FingerPrint Pad is the best choice and we used it for this guide with great results. It's only a few bucks and washes off with water. You will want to clean each finger after printing it, lest you wind up accidentally marking and smudging your FD-258 card. Smudging the prints or text boxes could result in the cards being rejected.
Optional, but Helpful: FD-258 Cardholder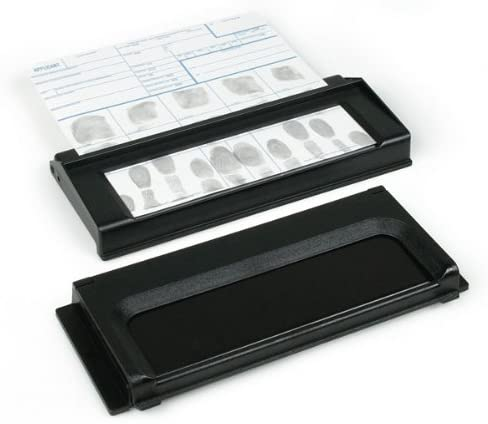 It's not required, but it helps to have a fingerprint cardholder (we used the Identicator Fingerprint Cardholder above) when taking your prints. This helps to prevent the card from sliding around and smudging. It also protects the rest of the card from unintended marks. The cardholder costs just a few bucks, so it's a safe investment to reduce the chances of any mistakes and application rejects.
How to Fill Out FD-258 Cards
First, fill out the FD-258 card with all the necessary information personal information before taking your prints. Trying to fill out this information after taking your prints could smudge them. DO NOT fill out any spaces marked with a red X, shown below.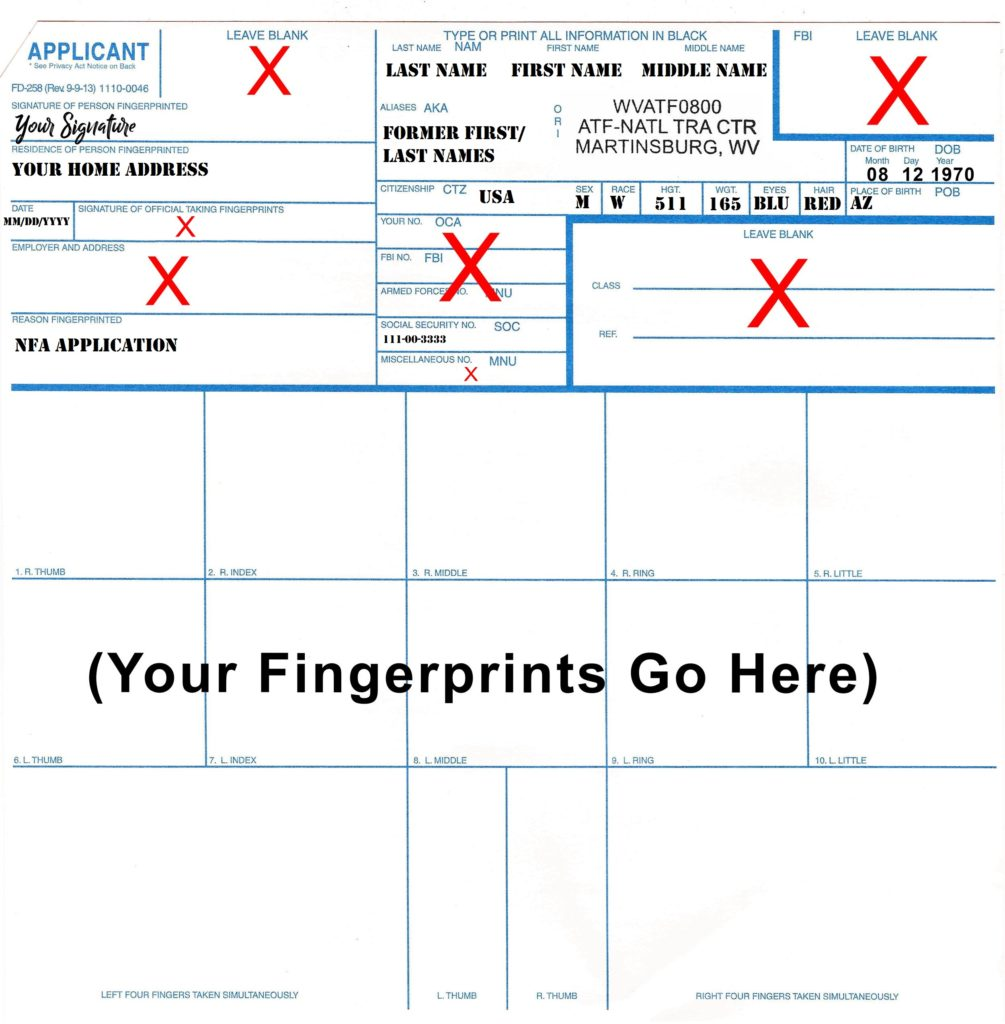 Leave Blank:

Self-explanatory. Don't touch.

Residence of Person Fingerprinted:

Enter your full home address.

Date:

Enter the date you took the prints in a "MM/DD/YYYY" format.

Signature of Official Taking Fingerprints:

Leave this blank. You are taking them yourself.

Employer Address:

Leave this blank. It is not required for a Form 1 application.

Reason Fingerprinted:

Enter "NFA Application."

Last Name:

Enter your last name.

First Name:

Enter your first name.

Middle Name:

Enter your middle name. If you don't have a middle name, enter "NMN."

Aliases:

Enter any former first and last names or maiden names you may have used before.

ORI:

This is a special mailing address. It should be pre-printed if you ordered your FD-258 cards from the ATF. If it isn't printed, enter the ORI exactly as shown above: "WVATF0800, ATF-NATL TRA CTR, MARTINSBURG, WV"

Citizenship CTZ:

Enter "USA" or "U.S."

YOUR NO. OCA:

Leave blank.

UNIVERSAL CONTROL NO. UCN:

Leave blank. Not pictured, but this field is present on newer FD-258 cards.

FBI NO. FBI:

May or may not be present. Leave blank.

Armed Forces MNU:

Leave blank.

Social Security No.:

Enter your social security number in a "000-00-0000" format.

Miscellaneous MNU:

Leave blank.

Date of Birth DOB:

Enter in a "MM/DD/YYYY" format.

Sex:

"M" for male, "F" for female.

Weight:

Enter numerically as pounds. Do not include acronyms. 155 pounds should be "155."

Height:

Enter numerically as feet and inches. Do not include apostrophes. 6'11 should be "611". 5'9″ should be "509."

Place of Birth POB:

Abbreviate the state wherein you were born by the accepted two-letter abbreviation. 
Race Letter Codes
A:

Asian

B:

Black

I:

Native American or Alaskan Native

U:

Unknown

W:

White
Eye Color Letter Codes
BLK:

Black

BLU:

Blue

BRO:

Brown

GRY:

Gray

GRN:

Green

HAZ:

Hazel

MAR:

Maroon
Hair Color Letter Codes
BLD:

Bald

BLK:

Black

BLN:

Blonde

BLU:

Blue

BRO:

Brown

GRN:

Green

GRY:

Gray

ONG:

Orange

PLE:

Purple

PNK:

Pink

RED:

Red

SDY:

Sandy

WHI:

White

XXX:

Unknown
How to Roll Fingerprints on FD-258
First, prep the FD-258 card for printing by either placing it in the fingerprint cardholder, or resting the card on the edge of a table. If using the cardholder, clamp the card down so the top row of fingerprint boxes is present. We're starting with the right hand's thumb.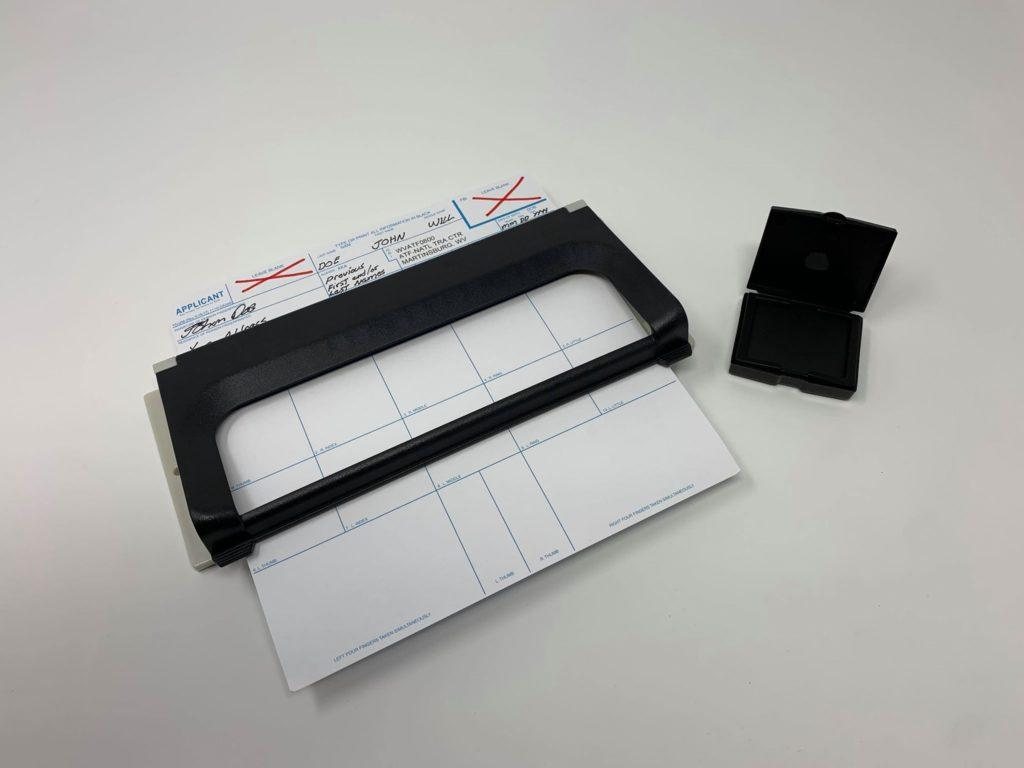 The rule of thumb (and all other fingers, pun intended) is to make your prints light, crisp, and clear. That means rolling your fingers across the ink pad with a single pass from one side of your fingernail to the other: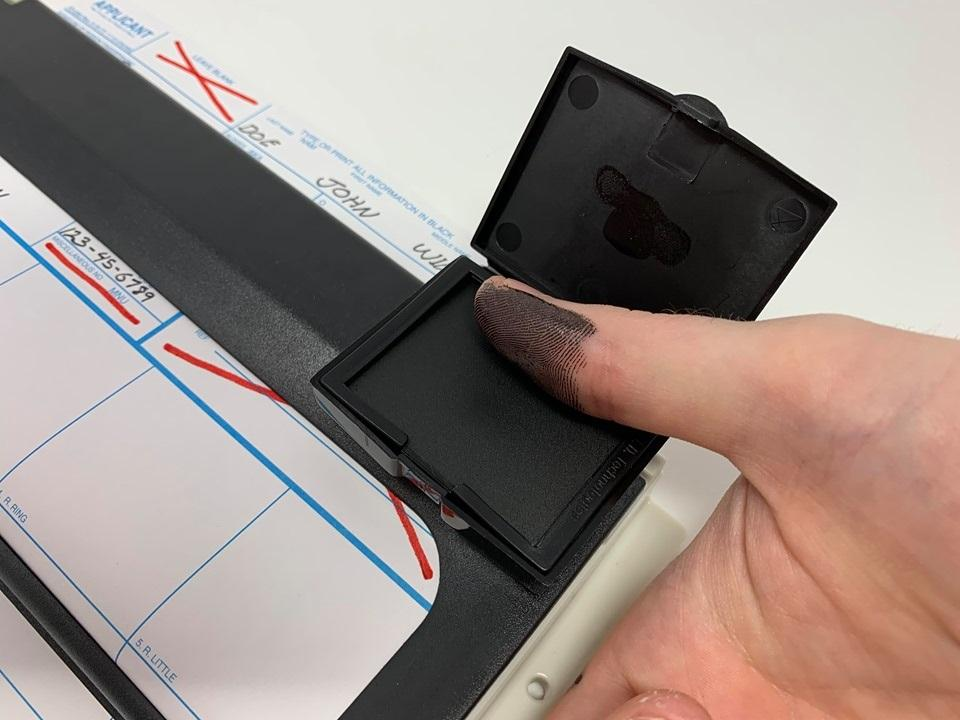 Once rolled, check the ink on your finger to see how well it applied: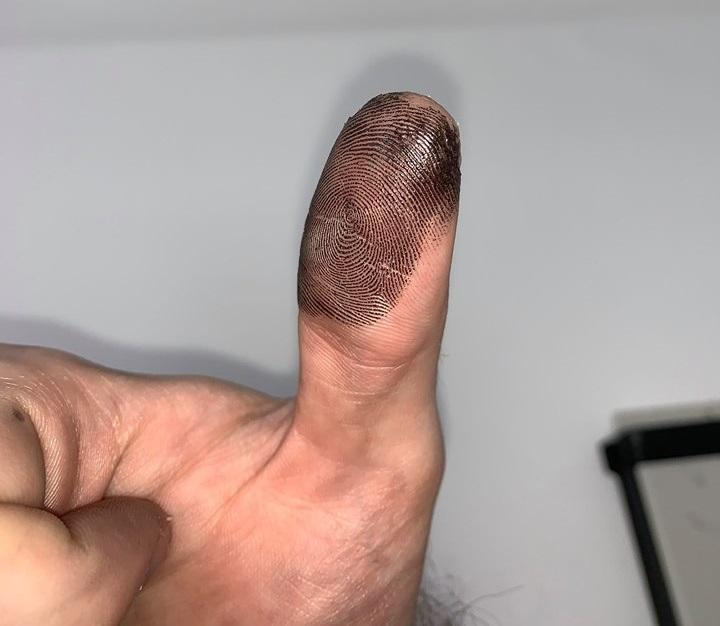 With the ink on your finger, both the ridges and valleys of your print should be clearly contrasted by the ink, as shown above. If the individual valleys between the ridges of your fingerprint aren't visible, wipe the ink away thoroughly with water. Dry your finger, and roll it again until the appropriate saturation is achieved. Now, test your fingerprint roll on a plain piece of paper, rolling from right to left for the right hand, and left to right for the left hand. A few practice rolls will greatly reduce the chances of making mistakes on the cards.
Once you're confident with your finger rolls, prep the right thumb with ink and align it with the edge of the first fingerprint box in the top-left corner. It is labeled "R THUMB."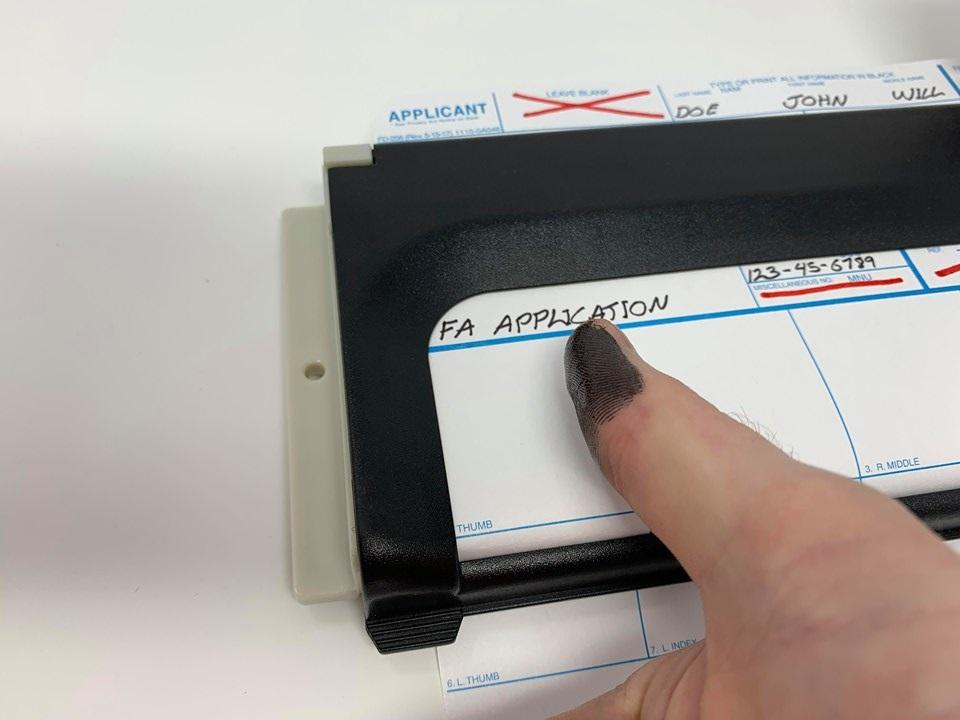 Roll the thumb across the box from right to left: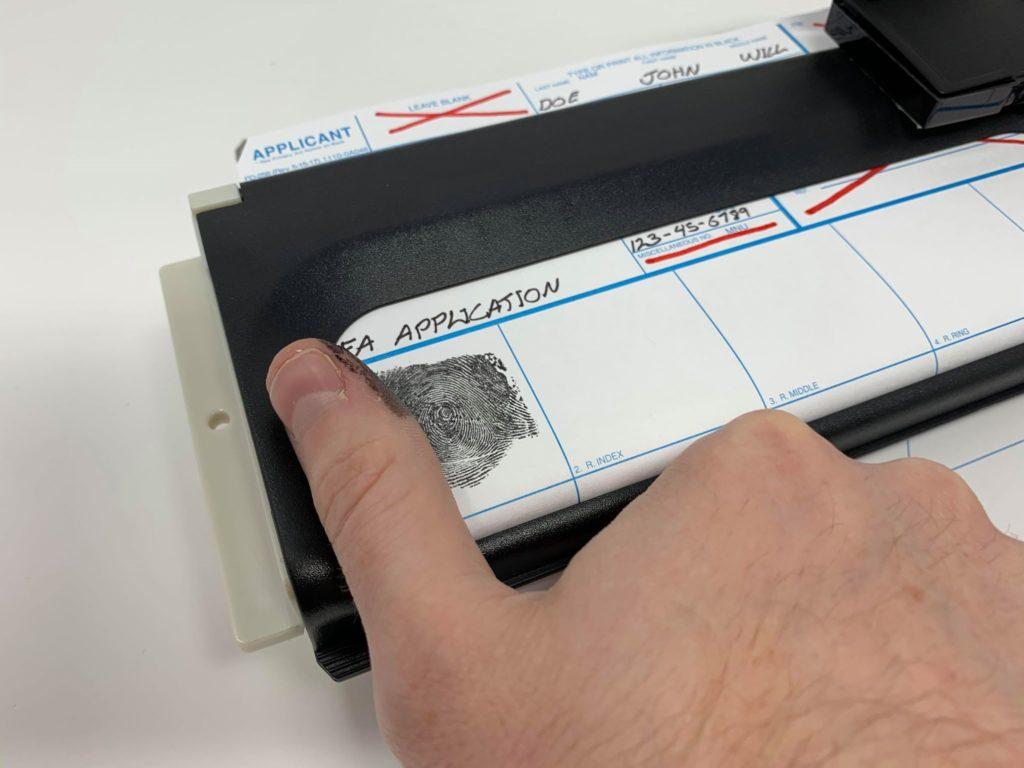 WARNING: DO NOT attempt to roll the same print twice. The fingerprint card will be rejected if you do. This is why practicing is important. Continue rolling each finger on the right hand, working from the thumb to the pinky finger.
WARNING: Thoroughly clean each finger and remove all ink with water and a dry towel before rolling the next print. If you don't, you will most likely spread ink over the rest of your hand and mark up or ruin the fingerprint card.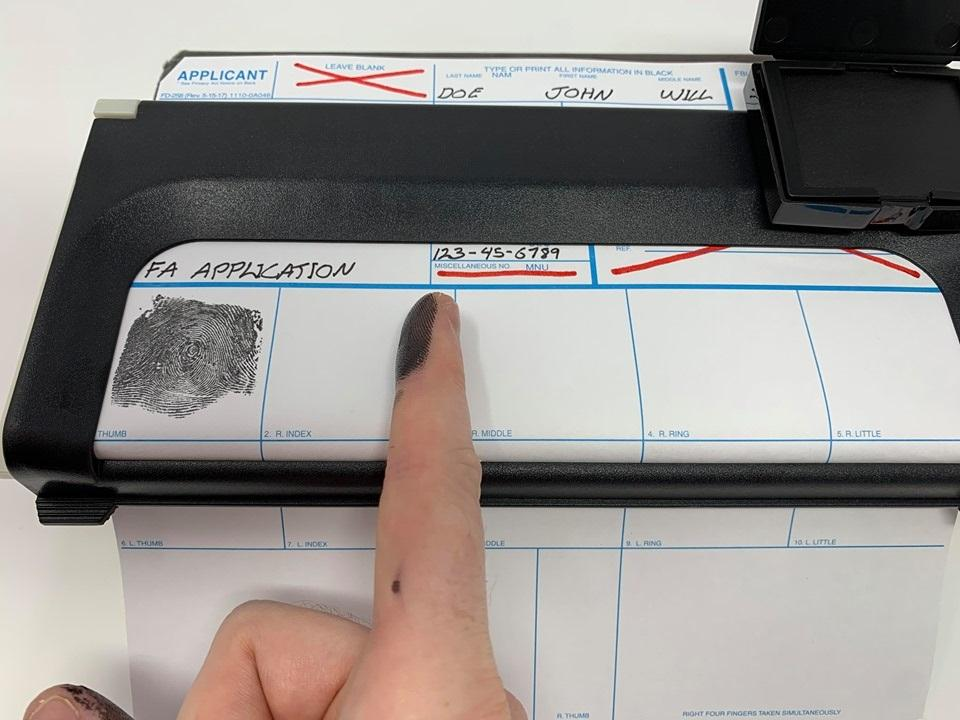 Repeat these steps for all ten fingers on the first two rows. Remember, the top row is for the right hand, and the second row is for the left hand. The bottom row is for recording "spot" prints, where you simply rest your four fingers and thumb on the paper without rolling.
WARNING: Don't apply ink as heavily as shown below for the spot prints, either. Over-saturating is easy to do when you're simply pressing down on the ink pad for these last prints. Note how the individual ridges and lines are not visible on the fingertips. This applicant needs to clean his fingers and attempt to apply ink again with lighter saturation!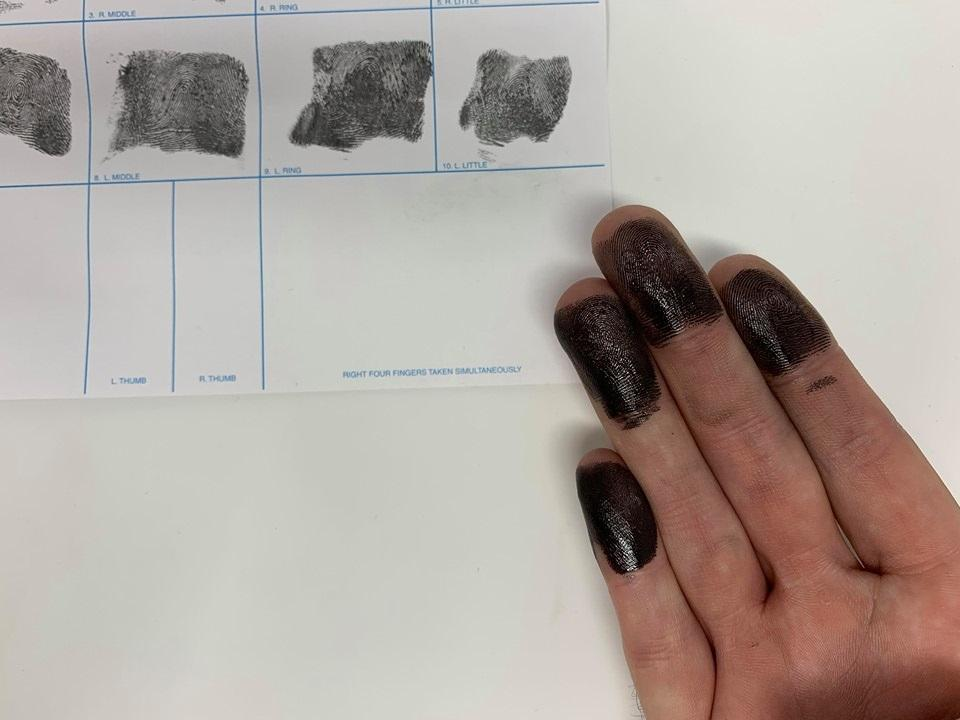 Once you've completed the spot prints for both hands…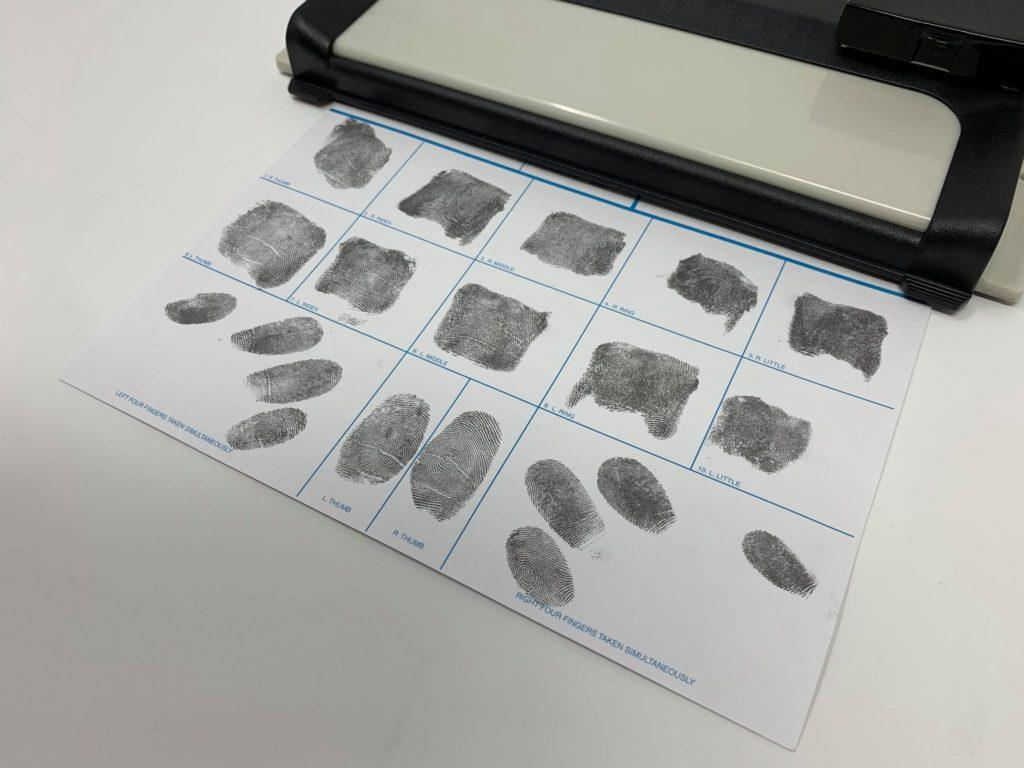 Repeat the entire process for the second FD-258 card. Remember, you need to mail two copies with the same information and recorded prints for each applicant if you're filing as a trust with multiple trustees included.
Where and How to Mail Your Prints
Once you've submitted your Form 1 application to the ATF, they'll upload a cover letter inside the application on the Electronic Documents page. This cover letter includes the mailing address for where to send your prints. We cover these instructions in greater detail in atf eform 1 guide. A quick summary is provided below.
Download the cover letter from E-Forms by accessing your submitted Form 1. Review the serial number, name, and phone number listed to ensure your information is described correctly. The cover letter must also have a unique Control Number listed. If it does not, you cannot mail the prints in yet: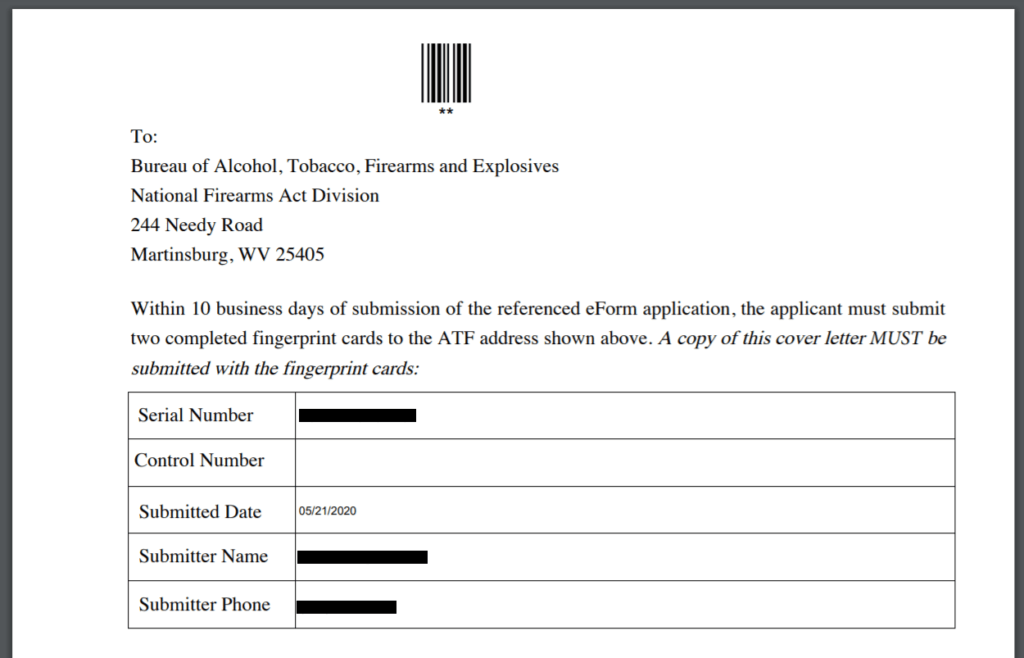 Make sure you mail the cover letter with your prints as soon as you receive the Control Number. Mail both sets of prints (and any additional copies of prints for trustees) to the address on the letter:
BUREAU OF ALCOHOL, TOBACCO, FIREARMS AND EXPLOSIVES,
NATIONAL FIREARMS ACT DIVISION
244 NEEDY ROAD
MARTINSBURG, WV 25405
It's best to mail the prints in a padded envelope or brown mailer. The cover letter can be folded, but DO NOT fold your FD-258 fingerprint cards, or they will be rejected. After your prints have been mailed, the ATF will notify you of their receipt in a few days. Your application will remain in a "PENDING RESEARCH" status, then it will convert to a "PROCESSING" status for approximately three to four weeks before being approved or rejected.
Frequently Asked Questions
Do I need to roll my own prints?
No. You can contact your local police department to request they record your prints. They may be able to record your prints digitally, and they can print as many FD-258 copies as required for future use, too. If you collect FD-258 cards from your local police, they won't have the ATF's ORI on the card. Make sure you write the ORI exactly as described in the "How to Fill Out FD-258" section of the guide.
What happens if my prints are rejected?
The ATF will notify you if your prints are rejected, which takes approximately 5 to 15 days. Your Form 1 application may or may not be rejected, but you will need to re-submit a new set of fingerprint cards with the cover letter included.
What if I submit more than one Form 1 application?
Every Form 1 and every NFA application requires two sets of original fingerprints. Even if you've submitted prints before, you need to record and submit new copies for every application you submit.
Can I mail my fingerprints as soon as I submit my Form 1 application?
Not necessarily. While you can download the Cover Letter immediately, it may be missing necessary information. If you make a custom model name for your suppressor, your application will be initially labeled as "PENDING RESEARCH." During this time, the ATF needs to log your suppressor's custom model name and other information before processing the application. A cover letter will be uploaded in the application in E-Forms once it's submitted, but as long as it is at the "PENDING RESEARCH" status, you cannot mail your fingerprints in. A Control Number needs to be generated in the Cover Letter you'll mail in with your prints, first. This number is only generated after the application converts from "PENDING RESEARCH" to "PROCESSING."
Comment