ATF eForm 1 Ultimate Guide | Step-By-Step Guide
Oct 25,2021 | KyleMatthews
Once you've figured out how you want to build your solvent trap suppressor, you need to file some paperwork with the Bureau of Alcohol, Tobacco, and Firearms. The paperwork in question is called Form 1: Application to Make and Register a Firearm. Until recently, this paperwork had to be filled out and mailed. Now, the ATF allows you to submit your application digitally. Let's go through the entire process so you can submit your application for your silencer.
1. The ATF E-Forms Website

First, navigate to the E-Forms website: https://eforms.atf.gov/EForms/
2. Register an Account
At the bottom of the page is a "Register" button. Click it to navigate to the account registration page: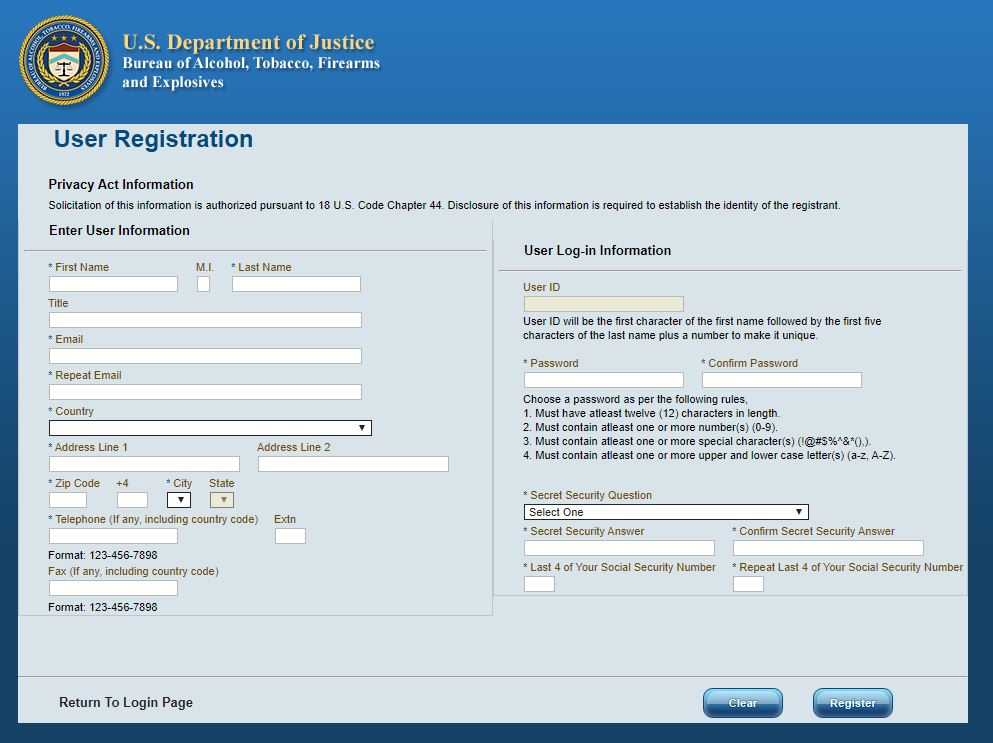 Fill out your first and last name, and middle initial if applicable.
You may leave "Title" blank. Only fields with an asterisk (*) are required.
Enter your email, county, and home of record. You may skip the "+4" section of the ZIP code.
If you live in an apartment or condo, use Address Line 2 for the apartment or building number.
The User ID will be automatically generated. You cannot create a custom User ID.
Enter a password, secret question and answer, and the last four of your social security number.
Click Register.

Once you've registered, you'll be forwarded to a registration confirmation page. Check your email to collect your new User ID.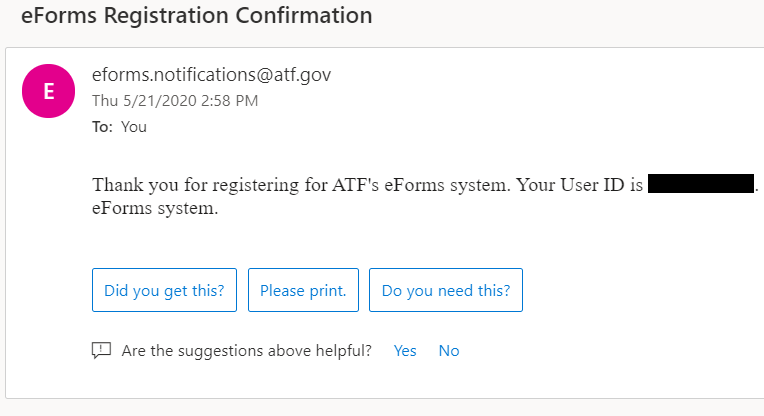 You are now ready to log on and start your application!
3. Log Into E-Forms
WARNING: The E-Forms website is incredibly slow. Do not attempt to buffer the site by repeatedly clicking "Next", "Save, "Upload", or other functions. Each page and save point will take up to 15 seconds to process. Government infrastructure at its finest. Thanks ATF!
With your User ID in hand, navigate back to the E-Forms homepage. Enter your User ID and Password.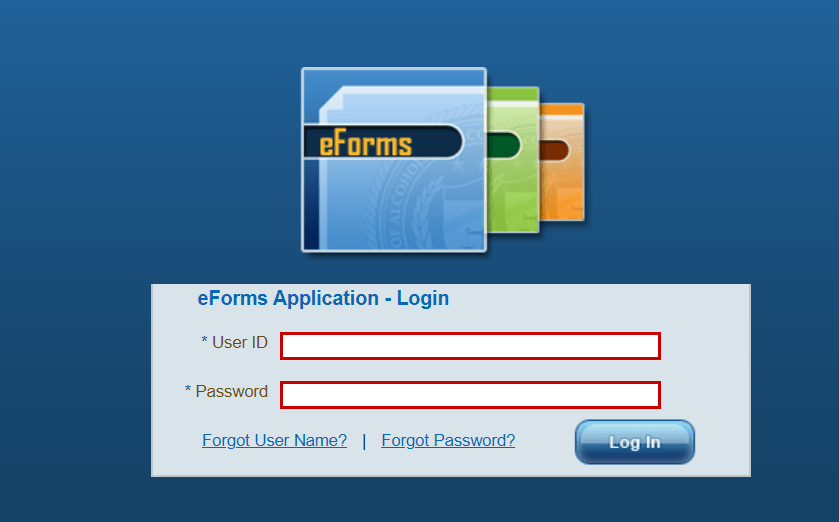 Once logged in, you'll be sent to the E-Forms dashboard. In the center of the screen is a scrolling selection for all available ATF Forms. Scroll to "FORM 1 ATF F 5320.1."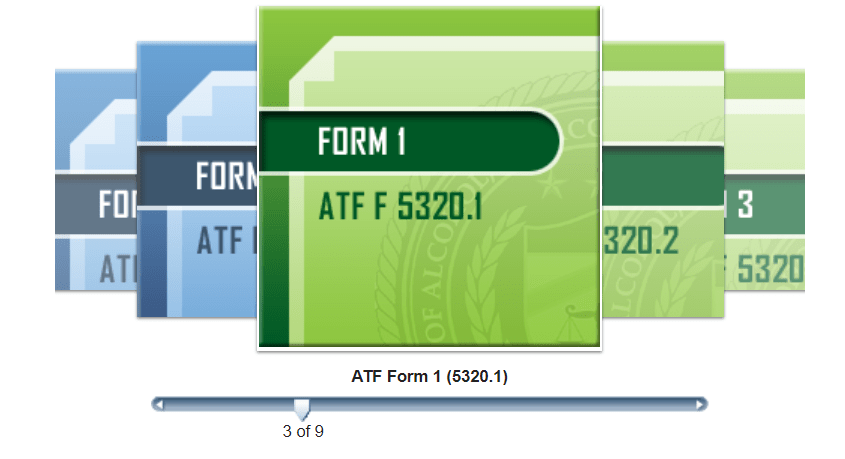 Hover over the form and click on it. The site will take a moment before loading the Form 1 application.
4. Form 1 Application: First, Select Applicant Type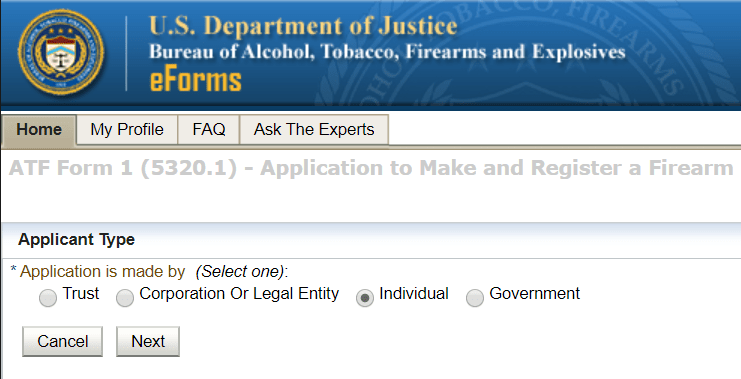 First you need to select the type of applicant to file as. Filing as an individual is easiest. A trust allows others to legally possess, transport, and use your form 1 suppressor kit. Filing as an individual is easier, requires less paperwork, and is less expensive. This is the route we're taking for this guide.
What if I want to file as a trust?
Creating a trust requires paying an attorney to draft a trust. It'll need to be notarized, too. If you file as a trust, you'll need to download ATF Form 5320.23: Responsible Persons Questionnaire and print one copy for each person, including yourself. Each member of your trust must fill this form out. Each member must also take a passport-style photo to upload here, with two copies of your and their fingerprints mailed to the ATF after submitting the application. You'll need to scan each Form 23 Questionnaire and upload them all to the Responsible Persons page (more on that later).
Once the applicant type is selected, click Next.
5. Review "Intended Use" and "Special Instructions"
Review the intended use and special instruction paragraphs.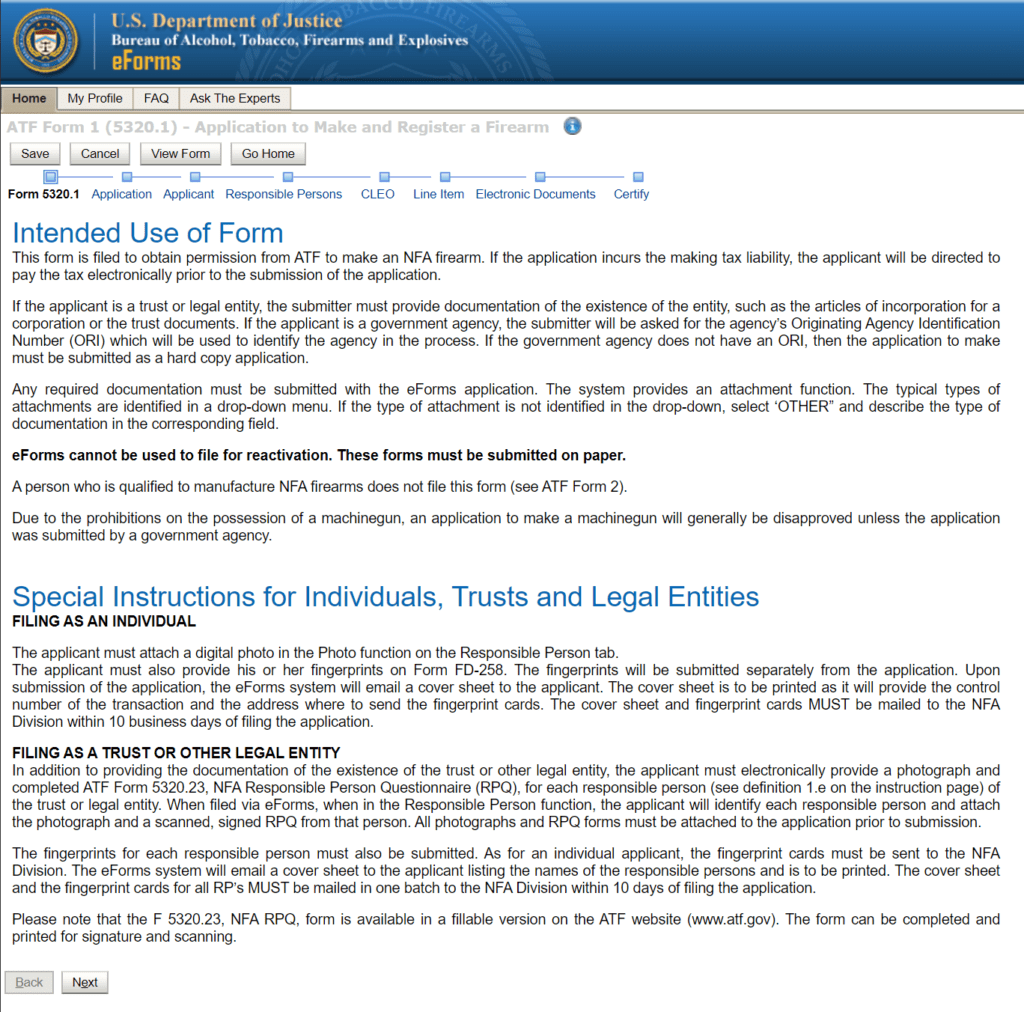 If you're filing as a trust, ATF provides detailed instructions here. Be sure to read them in detail. Then click Next.
6. Application Payment (The Famous "Tax Stamp")
Every NFA application requires paying a $200 fee to the ATF. This fee is called a Tax Stamp. Since we're building a suppressor for personal use, we are not tax exempt.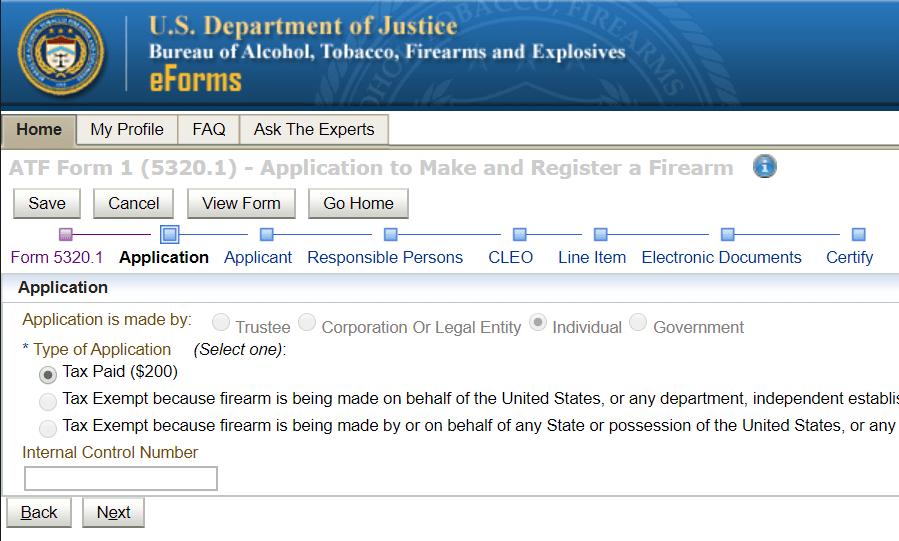 Select Tax Paid ($200).

Ignore the Internal Control Number.

Click Next.
7. Entering Applicant's Personal Information
You must now fill out the Applicant Information. Some of this information will be pre-filled (noted by the black boxes to protect this applicant's identity).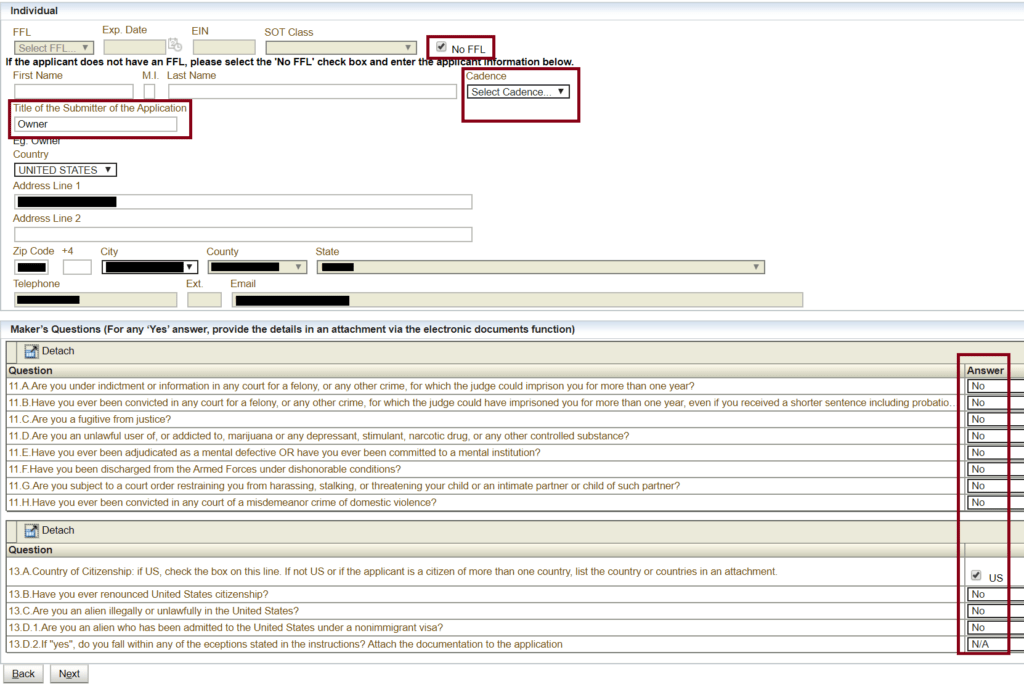 Check the "No FFL" box.

Select a Cadence if applicable for your legal name (Jr., Sr., III, etc.).

Enter "Owner" under Title of the Submitter of the Application.

Select the Country as "United States."

Enter your home of record address.

Ignore the "+4" ZIP code box again.

Verify the pre-filled information is correct.

Answer the YES/NO questions truthfully. Answering YES to any of the listed questions may result in your application being rejected.

Click Next.
8. Enter Responsible Persons Info and Upload Photo
The government loves redundancy. The Responsible Persons page will require you to re-enter some personal information. If you're filing as a trust, you'll need to add each person on the trust to this page. This is where you'll scan and upload the Form 23's and passport-style photos for each trustee, too.


Select U.S. CITIZEN or NON-U.S. CITIZEN.

Select your name's Cadence if applicable.

Confirm Title is described as "Owner."

Confirm your First, Middle, and Last Name are correct.

Confirm your Email is correct.

Upload a digital passport-style photo of yourself.
The photograph doesn't need to be anything special. You can simply snap a "selfie" with your smartphone and upload it. Be sure the photo captures your shoulders and full face. Remove glasses, jewelry, and hats, and take the photo against a plain white or neutral-color wall. The file size cannot exceed 3MB and should measure at least 2″ by 2″ when viewed on a desktop monitor. The photo must be a .JPG or .JPEG.
For additional Trustees
Click on Actions.

Add a new person.

Input each Trustee's information like you did for yourself.

Scan and upload each Trustee's Form 23 and passport photo.
Once you've added all Responsible Persons, Form 23's and photos (if applicable), scroll to the right:

Enter the below information for yourself. Repeat these steps below for all Trustees if applicable:
Enter your Social Security Number.

Enter your ZIP Code.

Select your State.

Enter your City.

Enter your Street Address.

Enter your Date of Birth.

Select your Birth Country.

Select your Birth State.

Select State of Residence.

Select your Sex.

Select your Race.

Ignore "UPIN."

Click Next.
9. Enter Local Chief Law Enforcement Officer's Information
You will need to mail a copy of your Form 1 application to your local Chief Law Enforcement Officer, or "CLEO". The ATF will email you a "CLEO Copy" of your Form 1 application once processing as begun. Locate your CLEO by looking for your local police department or Sheriff's office online.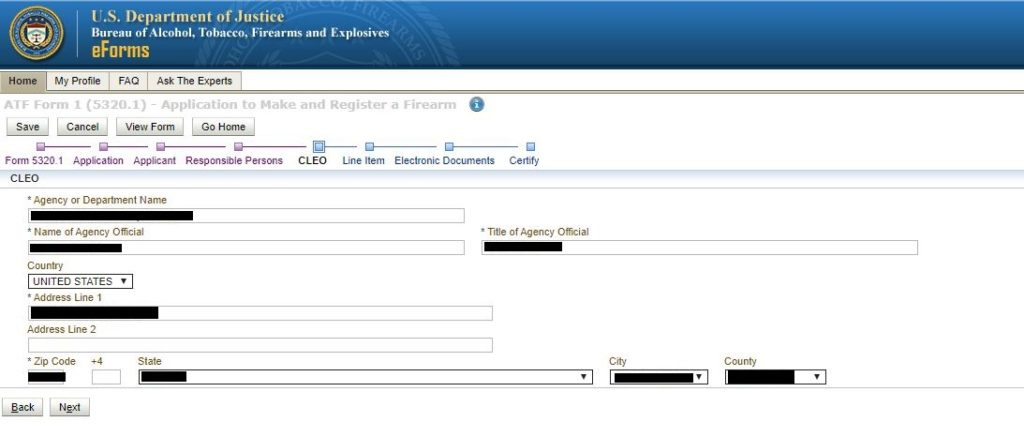 Enter the Agency or Department Name of your local police department.

Enter the Sheriff's or Police Chief's name and title exactly as described on the department's website.

Enter the department's address, including street, ZIP code (ignore "+4"), state, city, and county.

Click Next.
10. Enter Your Future Suppressor's Information
The Line Item page is where you'll enter your new suppressor's information. On this page, click the Add Firearm button.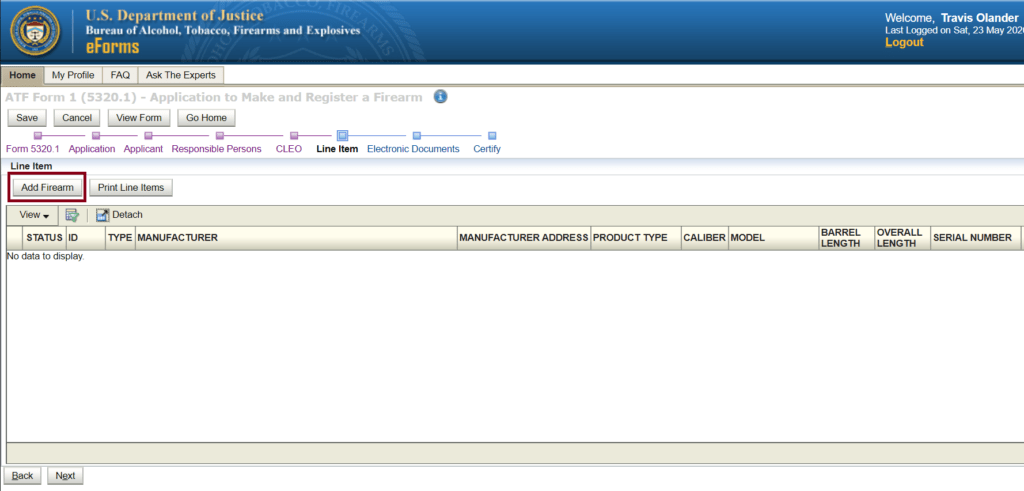 The pop-up window shown below will display. If it does not, verify your web browser has pop-ups enabled for this website.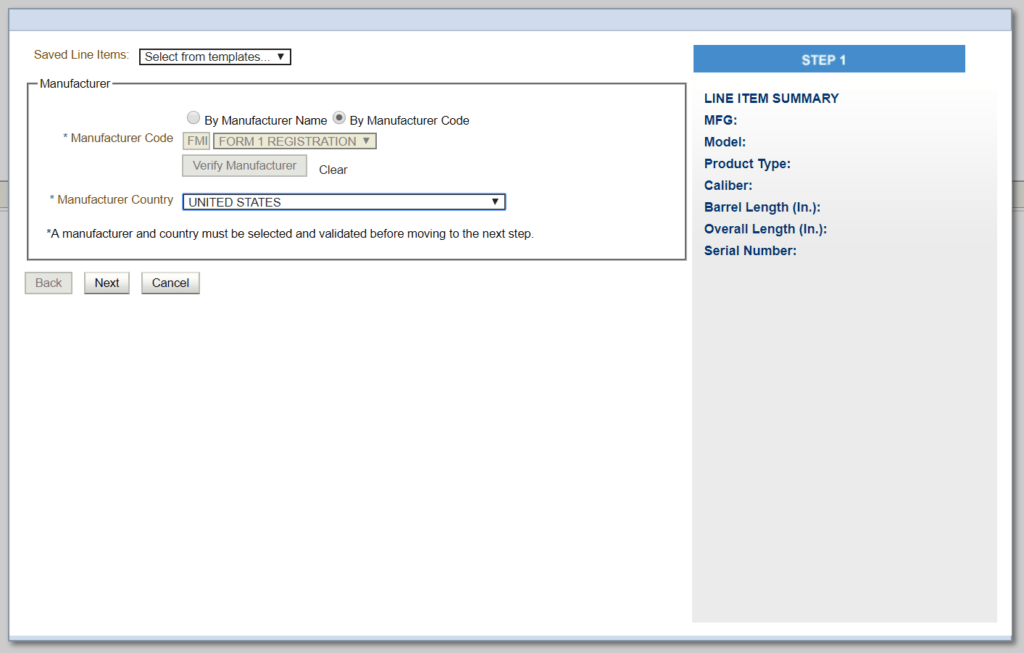 In the pop-up window, select the "By Manufacturer Code" option.

Next to Manufacturer Code, enter the letters "FMI".

The dropdown menu to the right will populate with "FORM 1 REGISTRATION." Select this.

Click "Verify Manufacturer." A confirmation message will display. Close the confirmation message.

Select Manufacturer Country as "UNITED STATES."

Click Next.
A second pop-up window will display. This pop-up window operates very slowly each time you select an option, because it connects to the ATF's database of all existing Form 1 model names that have been entered by every other applicant like yourself. Let it take its time while performing these next steps, or the system could crash: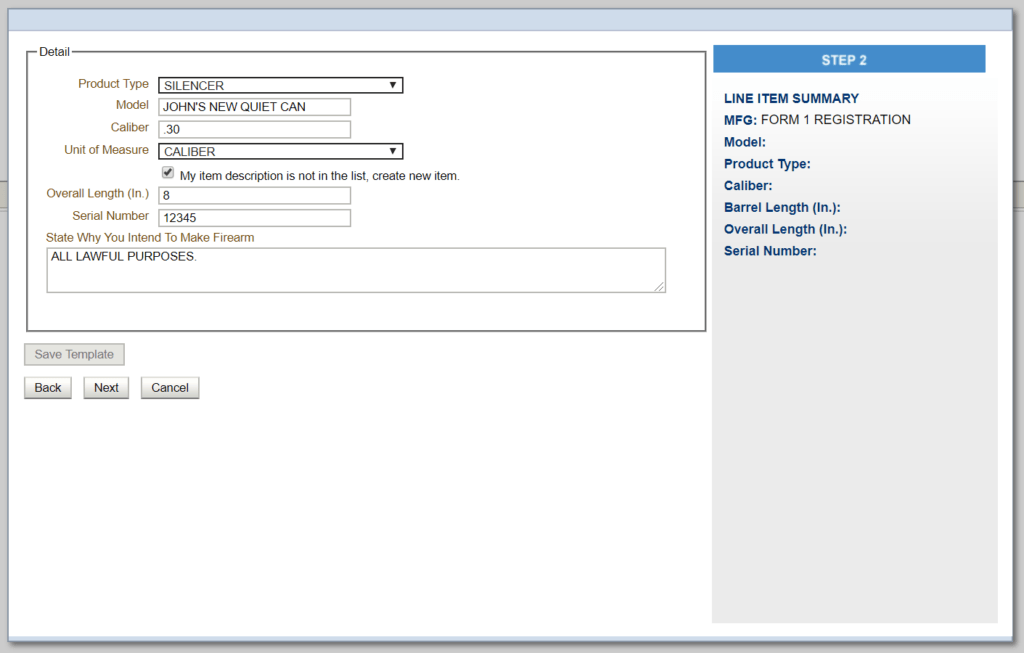 Now comes the fun part: Digitally creating your suppressor in the ATF's database.
Next to Product Type, select "SILENCER."

Click the "My item description is not in the list, create new item" checkbox.

You can leave the Model field blank. Or, you can name your suppressor something fun! If you choose to include a model name, it'll need to be engraved on your suppressor along with the serial number, and your name and location (city and state). You'll also receive some warnings from the E-Forms website about the model/manufacturer information not being recognized. These warnings can be ignored. Leaving the Model field blank may expedite your application by a few days.

Next to Unit of Measure, select "CALIBER."

Enter the Caliber of your suppressor. If you want to use your new suppressor on various guns, enter the largest caliber the suppressor will be used on. Exclude words when entering the caliber. For example, 300 Blackout should simply be entered as ".30," and 6.5 Creedmoor should be entered as "6.5mm."

Enter the Overall Length of your suppressor.

Enter the Serial Number you'd like to engrave on your suppressor. This, too, can be generally anything. It must include numbers. Avoid special characters and phrases.

Under "State Why You Intend To Make Firearm" enter "All lawful purposes."

Click Next.
A third pop-up window will appear: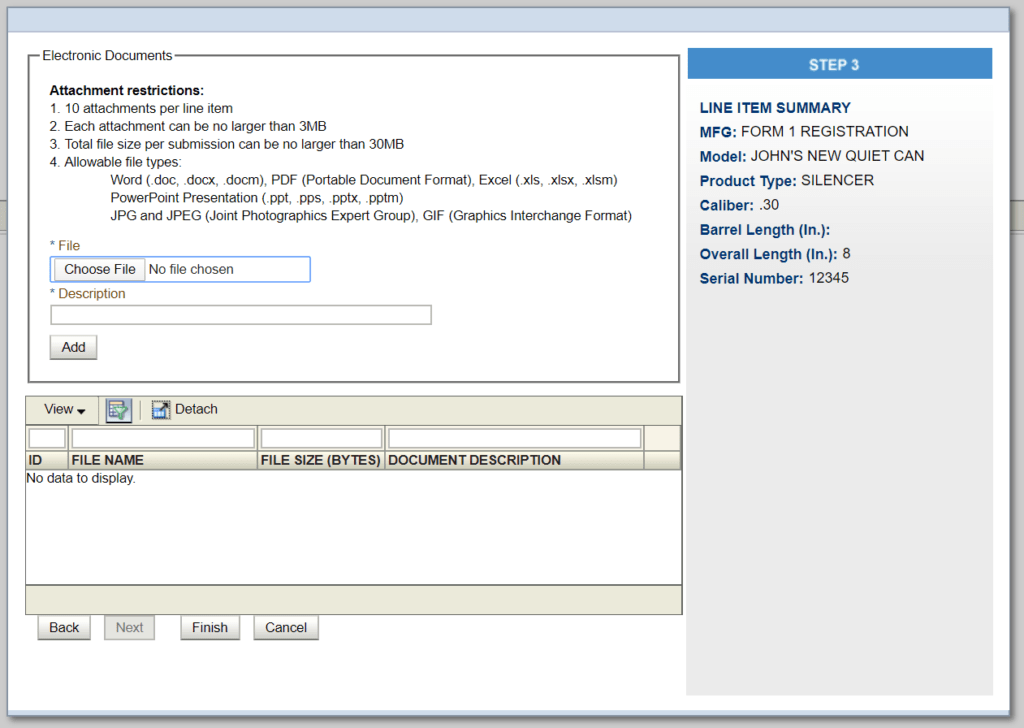 Good news, you get to ignore this window. Confirm the information you entered is correct on the right-hand side, then click Finish. The pop-up window will take a moment to disappear before bringing you back to the Line Item page.

You will notice a yellow triangle under STATUS. This is normal. Every time you register a new suppressor, the ATF needs to review it and enter it into their database. The triangle doesn't indicate any issues. Confirm all information you entered is correct on the Line Item page before clicking next.
MANUFACTURER should list "FORM 1 REGISTRATION."

MANUFACTURER ADDRESS should list "UNITED STATES."

PRODUCT TYPE should list "SILENCER."

CALIBER should list the caliber you entered.

MODEL should list the model name your entered.

BARREL LENGTH should be empty.

OVERALL LENGTH should match the length you entered.

SERIAL NUMBER should match the serial number you entered.

Click the paper-and-pencil icon if you need to make any edits.

Click Next.
11. Electronic Documents Page (Trusts Only)
The next page is the Electronic Documents upload page. This page is only used for individuals filing as a Trust or Corporation. You'll be re-visiting this page after submitting your application to download a fingerprint card mailing document from the ATF, too.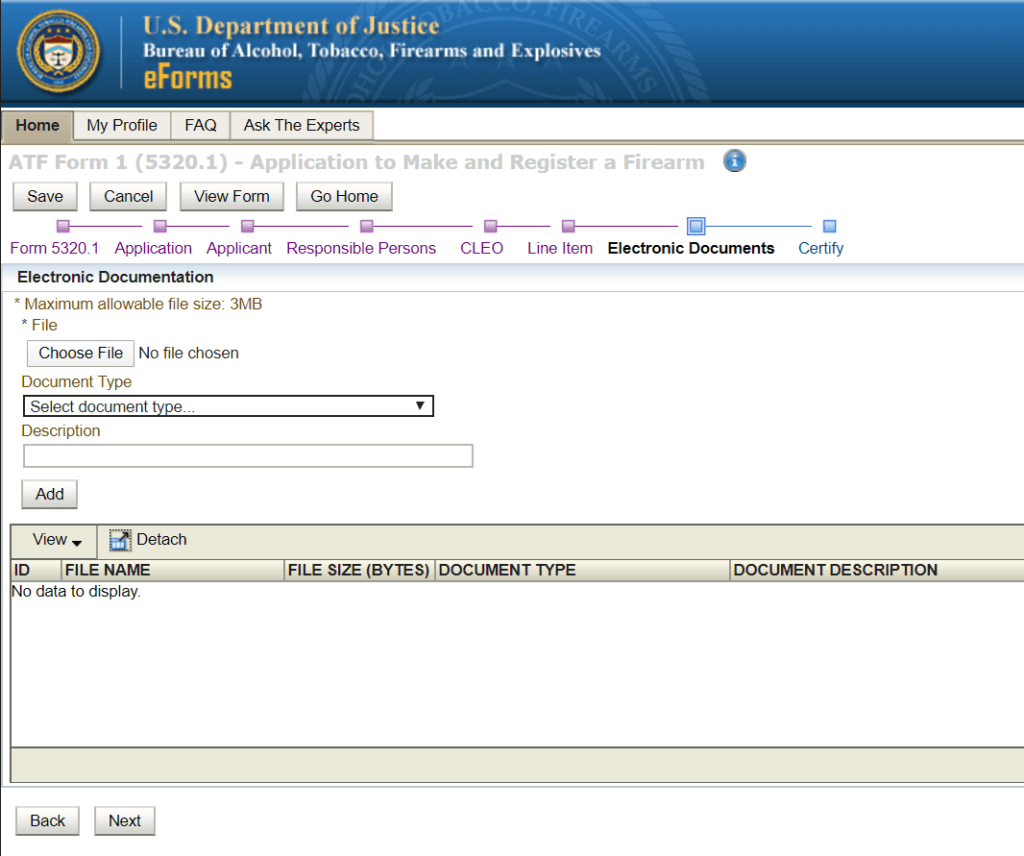 If you're filing as a Trust, this is where you must upload a notarized copy of your trust's documents. If you're filing as an Individual, you do not need to take any action on this page.
Click Next.
12. Certify Application's Information and Pay $200 Tax Stamp
On the Certify page you'll notice another yellow warning about your model. The message will request that you upload additional information to the application to "help assist with this validation." Ignore this. Do not upload any additional photos or documents.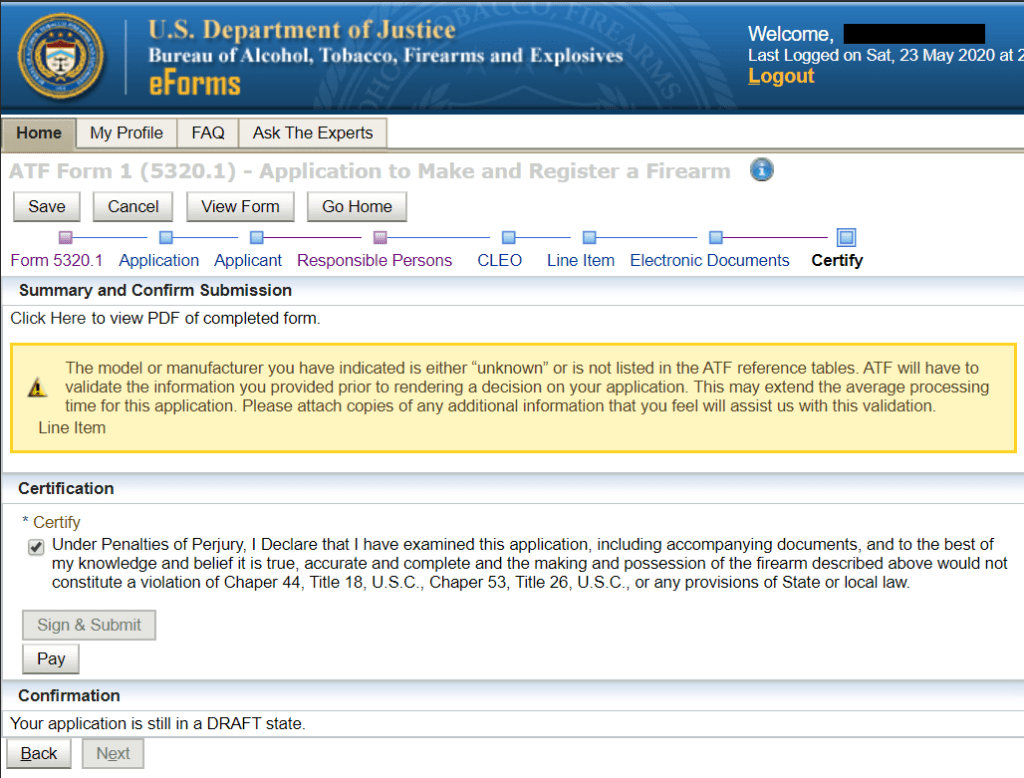 Check the Certify checkbox after reading the Certification disclaimer.

Click Pay.
13. Entering Tax Stamp Payment Information
Another pop-up window will generate. This window will require you to enter your payment information for the $200 Tax Stamp. Again, ensure your browser enables pop-up windows for the ATF's website.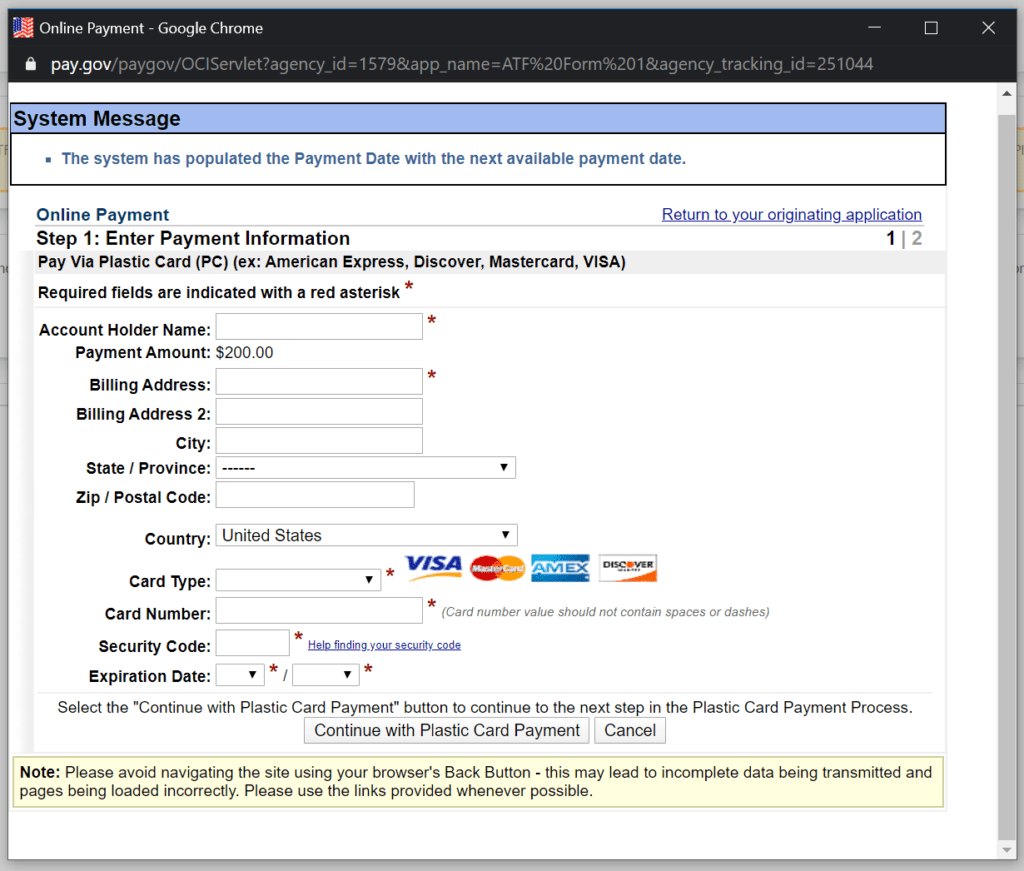 Enter your full name as listed on your Debit or Credit Card under Account Holder Name.

Enter your Billing Address, City, State, ZIP, and Country.

Enter your debit or credit card's payment information.

Scroll down and click Continue with Plastic Card Payment.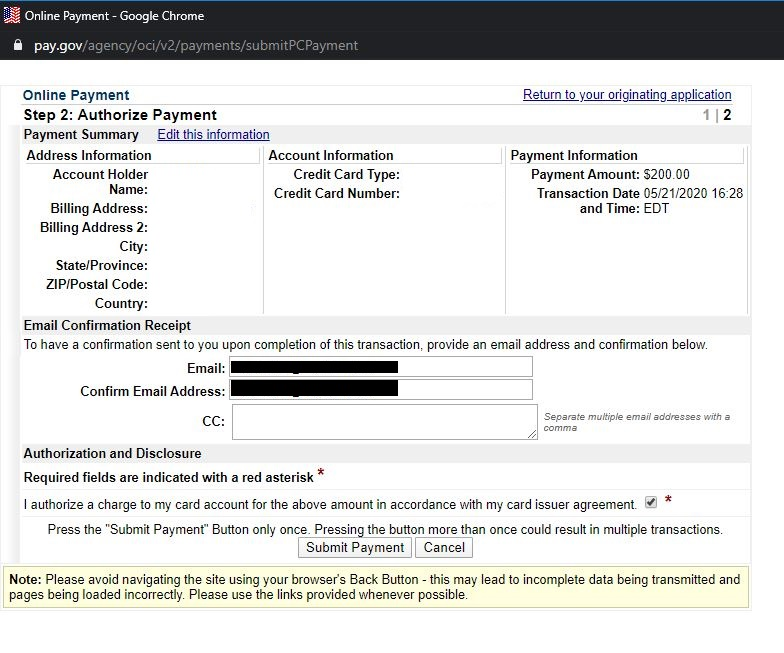 Confirm all payment information you entered is correct. Then click Submit Payment.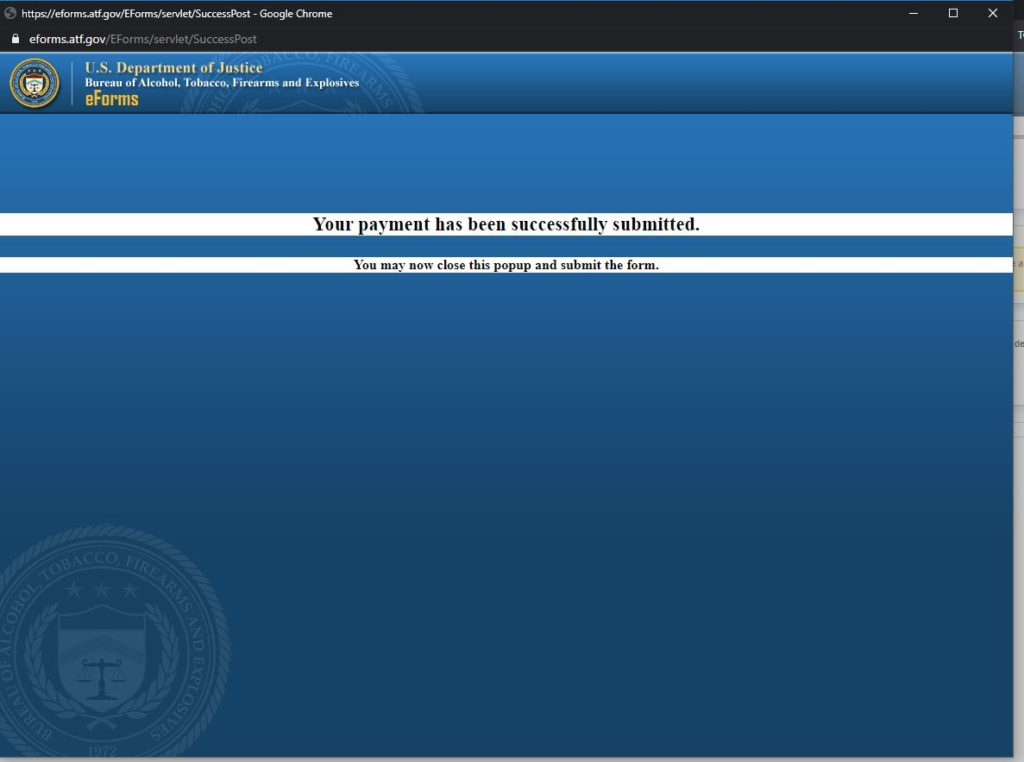 Once the payment processes, you'll receive a message in the pop-up window stating your payment has been successfully submitted. Close the pop-up window to return to the application dashboard.
14. Submit Form 1 Application for Processing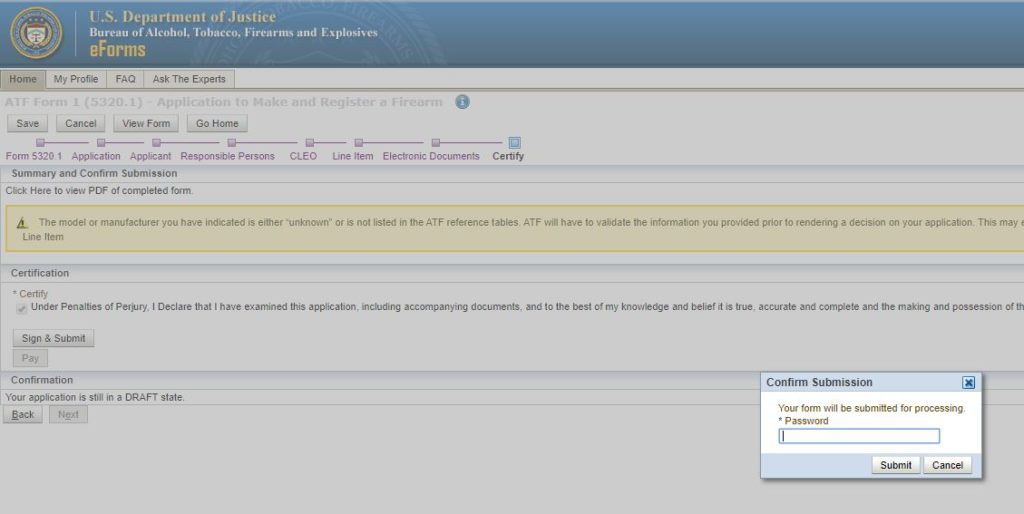 On the Certify page, click Sign & Submit. Another pop-up will display requesting you input your account password. Enter your password and click Submit. At this point, your application will be submitted and it cannot be modified. Make any changes or confirm any information you entered previously before entering your password and clicking Submit.


Once you've submitted your application, you'll be brought back to the login dashboard with a pop-up indicating your Form 1 application has been successfully submitted! You may click on the [+] icon next to the "SUBMITTED/IN PROCESS" tab to the left to view the application.
15. What Happens Now?
If you entered a model name for your suppressor, your application will enter a "PENDING RESEARCH" status. You'll receive two emails from the ATF. One is a payment receipt, and one notifies you of the status of your application, exampled below. Attached to the status email is a copy of your submitted application labelled "Form.pdf". The application will display "DRAFT" on each page when the .pdf viewed: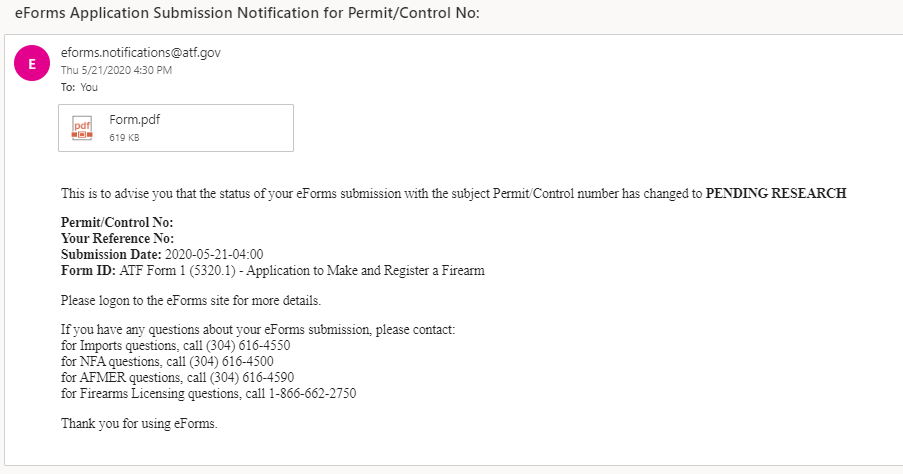 If your application is in "PENDING RESEARCH", it will usually takes 7 to 15 business days before the ATF reviews the application and converts the status to "PROCESSING". When your application converts to the "PROCESSING" status, you'll receive the CLEO copy of your application that you must mail to your local chief law enforcement officer. A Cover Letter will be provided in the PROCESSING status email. This email and its attachments must be viewed on a desktop computer or laptop.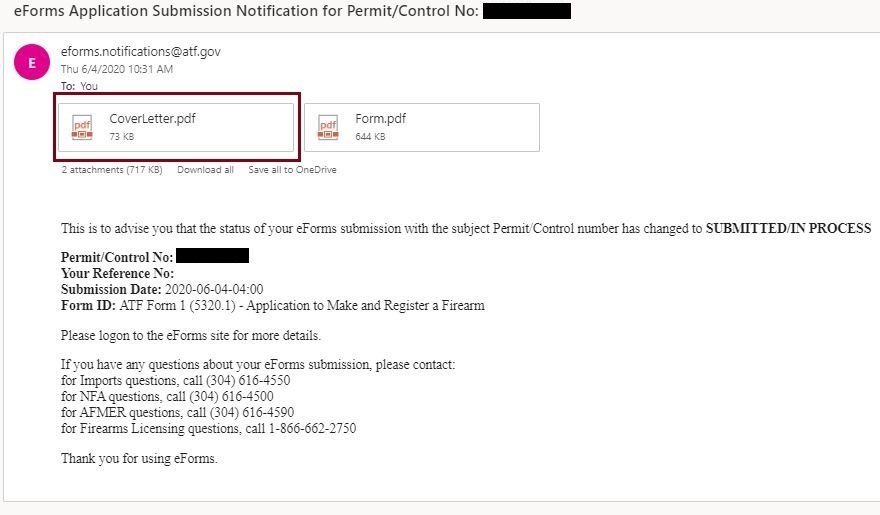 IMPORTANT: You must mail two copies of your (and any Trustees') fingerprints using two FD-258 Fingerprint Cards to the ATF within 10 business days of receiving the "PROCESSING" email and Cover Letter. If you don't mail prints within 10 days, your application will be rejected and you will need to wait approximately 30 calendar days to receive a refund for your $200 payment. The cover letter you'll receive includes the mailing instructions for your fingerprint cards.
You may be able to download your Cover Letter and mail your prints immediately after submitting the application. This can only be done if the application is in the "PROCESSING" status and only if the Cover Letter includes a Control Number on the form. If the Control Number isn't on the letter or your application isn't in "PROCESSING", you cannot mail your prints yet. If your application is "PROCESSING" and you haven't received your cover letter immediately, you may be able to download it from your submitted application.
Follow the instructions below to download your Cover Letter.
16. Downloading Your Cover Letter
To view your cover letter immediately, log back into E-Forms. Navigate to the Form 1 you submitted via the SUBMITTED/IN PROCESS tab, and click on the Form 1 listed there.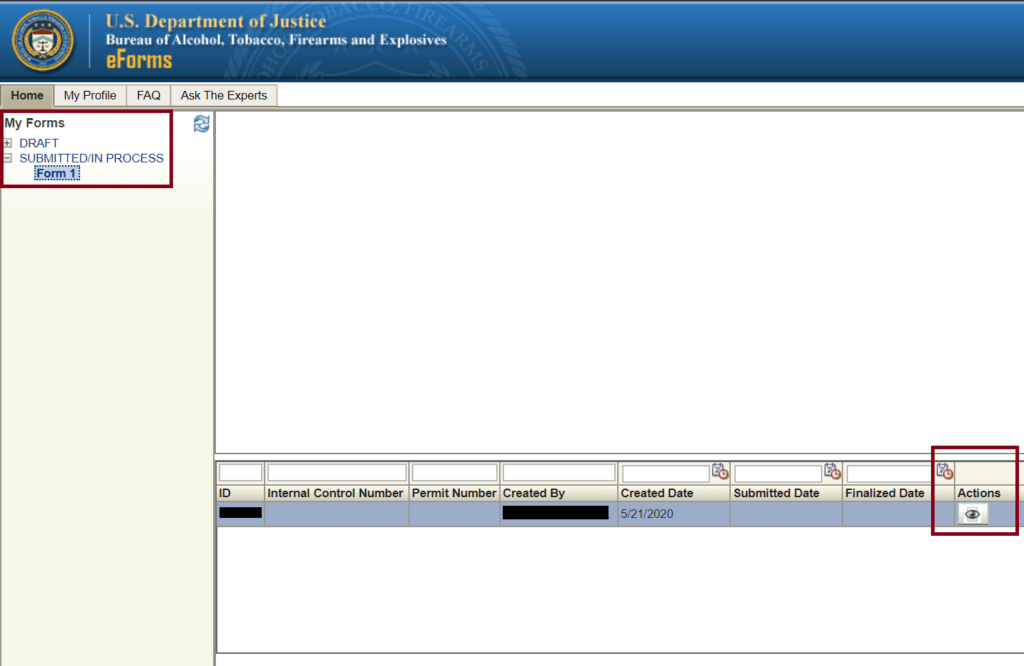 Once the form loads, click on the eyeball icon under "Actions." Your application will load.


Once the application loads, click on the Electronic Documents tab. You'll see your portrait upload listed next to a new upload:

Click on the "Form1CoverLetter.pdf" document. Your browser will automatically download it. Open the document and review the Cover Letter: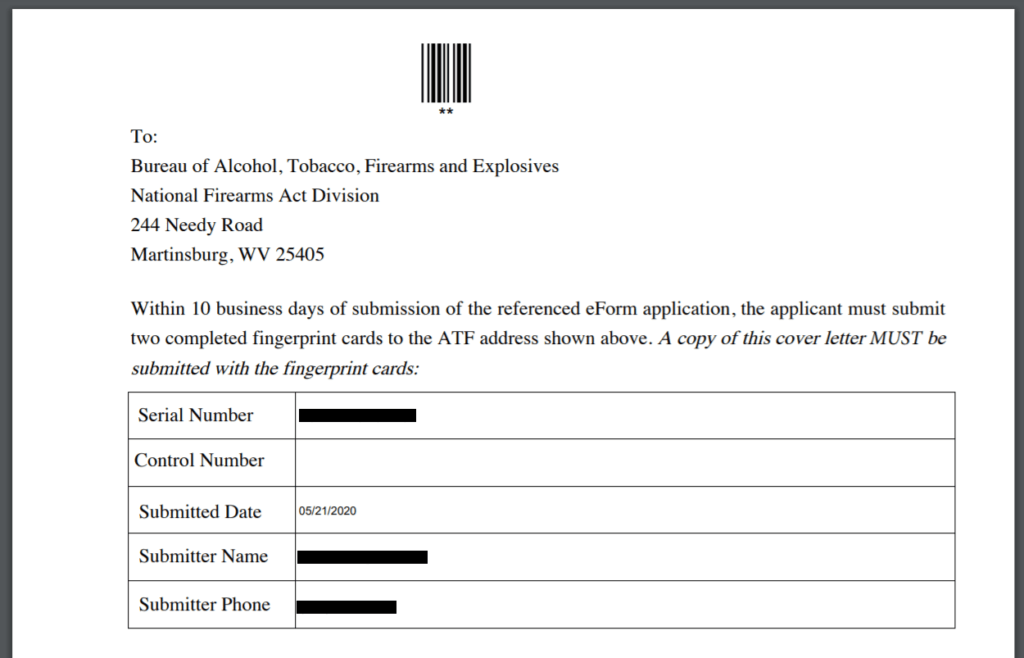 The cover letter will list your serial number, date of application submission, your name, and your phone number. Again, the Control Number must also be present. If this field is blank, you cannot print this letter and you cannot mail your fingerprints, yet. If the Control Number is present, confirm your other information is correct on this form and print it. The instructions provide the mailing address for your fingerprint cards. Fingerprint cards must be mailed with this cover letter included in the envelope so the ATF can match your prints to your application via the Control Number.
Need to know how to roll your fingerprints for the application? It explains how to order fingerprint cards from the ATF, and how to take and mail your prints.
17. Frequently Asked Questions
My Submitted Application says "Pending Research." What Now?
You wait for an email. The ATF needs to record your suppressor's information before processing the application. Once they've start processing, you'll receive an update email with the cover letter containing mailing instructions for your fingerprints, and a Control Number. You cannot mail your prints without the Control Number present on the cover letter.
What Happens After I Mail My Fingerprints?
Nothing. The ATF will not notify you that they received your prints. You may opt to include a tracking number on your mailed prints to verify they've been successfully received by the ATF at the mailing address on the cover letter.
How do I Mail the "CLEO Copy" of My Application?
When your application converts to a "PROCESSING" status, the ATF will email you a copy of your application marked "CLEO Copy". This is the copy you must deliver or mail to your local chief law enforcement officer.
What if My CLEO Returns or Refuses my Form 1 Paperwork?
You have no obligation to "convince" your CLEO to retain any records of your Form 1 application, and your CLEO cannot intervene or legally make attempts to prevent your Form 1 application from being processed by the ATF. Many builders have reported having the CLEO Copy of their applications returned to them or simply refused by the police department or officer. You are only obligated to attempt to submit the form to the CLEO. It is on the officer and his or her department to decide whether they want to keep it or not.
What Happens When My Form 1 is Approved?
Once your Form 1 application has been successfully processed, you'll receive a notification stating your application status has changed to "APPROVED." The ATF will email you your tax stamp and approval form for your new suppressor!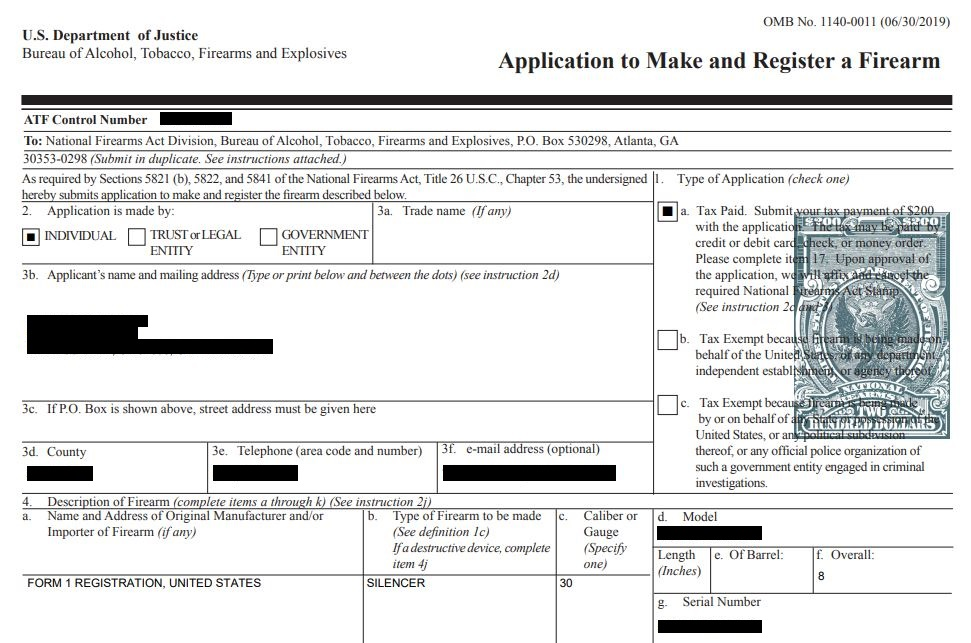 Do not ever delete this email. You will not receive a physical tax stamp in the mail. Print the form and digitally-generated tax stamp and put it somewhere for safekeeping. At this point, you can legally cut, drill, and machine your suppressor's parts for assembly.
I Have an Issue With My Application. Who Can I Talk To?
Surprisingly, the ATF's customer service is rather helpful. You may log onto e-Forms and click on the "Ask The Experts" button located at the top-left corner of the dashboard. This will allow you to submit a digital message to ATF personnel who handle Form 1 applications. An ATF agent will email you at the address you used to register your account, usually within 48 hours.





Comment